This Silver Bear .223 ammunition features distinctive highly polished zinc plating on the steel cartridge case; hence the "Silver" Bear name. Silver cases are usually reserved for law enforcement, safari and specialty ammo.
This product uses Berdan priming for long shelf life and sure-fire ignition. Silver Bear is loaded to exacting standards.
Specifications
Silver Bear Rifle Ammunition is packaged 20 rounds per box and contains 25 boxes per case.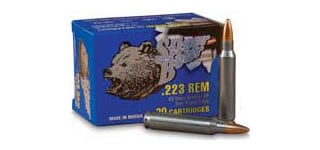 Item Number: A223RHPN
Cartridge: .223 Rem
Bullet Weight: 62 Grain
Bullet Style: Hollow Point
Velocity: 2923
About Silver Bear Ammunition
Silver Bear is produced at the Barnaul Machine Plant JSC – one of the leading producers of industrial goods and ammunition in Russia. The plant's history goes far in the past to the period of Alexander I. The Emperor ordered the opening of the first cartridge plants in St. Petersburg in 1869. During World War I the plant supplied the Russian Army and operated out of St. Petersburg until the Civil War when it moved to the Moscow region. During World War II under the threat of a Moscow siege, by German Forces, the plant was relocated to Barnaul, where the production of various types of cartridges began. Barnaul sent ammunition to the Soviet Army a month later and produced almost 50% of the cartridges used by the Soviet Army.
The most substantial plant activity is manufacturing of sport-hunting cartridges for rifle and shotgun cartridges. Barnaul is currently one of the largest suppliers of cartridges in Russia. It also delivers cartridges regularly to America, Europe and Asia